Marie Icard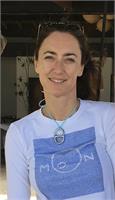 Marie
has a Bachelor degree from the Culinary Institute of Paul Bocuse in Lyon, France, the country where she grew up.
She moved to New York in 1998 and had the opportunity to work in prestigious hotels and restaurants in Manhattan, then she moved Long Island.
She started to practice different styles of yoga after the birth of her daughter and discovered that Yoga like good Cuisine could bring people a lot happiness and well -being.
Yoga brought her enjoyment, pleasure, better health and boosted her energy. The benefits of practicing were not only physical, but also mental and emotional.
Like to Chocolate , she became addicted to Yoga !
So, she decided to learn more about it and its philosophy in order to become a teacher and specialized in Vinyasa Flow and Restorative.
She followed the teacher training program at Om sweet Om and is very grateful to Gail, Deborah, Jen, and Robin, for being such amazing teachers and earned her RYT 200 certification.
She did a training of Restorative Yoga with Gail at the Shack studio and enjoys teaching restorative classes as well.
Her wish today is to share this passion with her students and simply bring them some well -being, some joy, some warmth, peacefulness and relaxation.
Marie Icard is currently not instructing any classes.