Karine Falleni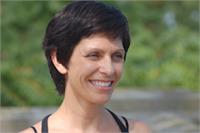 Karine Falleni has come back to her home town of Port Washington after years in Tucson, Arizona to bring us the ONLY Yogahour offered on Long Island.
Karine trained with one of Yoga Journals 21 Talented Young Teachers Shaping The Future Of Yoga. Darren Rhodes (the founder of Yogahour and director of YogaOasis in Tucson, AZ). As Karine studied under him, we cannot wait to introduce her to our Om Sweet Om community for her unique style, knowledge and exuberance for teaching. We KNOW that Yogahour is the perfect class to add to our schedule and can't wait to see you there to experience this incredible unique class.
Karine Falleni instructs the following:



Prenatal Yoga applies postures, breathing, and meditation to help sooth the challenges of pregnancy, and to prepare expectant mothers for both delivery and postpartum recuperation. Yoga has been shown to help alleviate many of the common complaints that occur during pregnancy such as heartburn, swelling, back pain and sciatica- while also bringing a deep awareness and a sense of joy at experiencing the natural changes that occur during these 9 months.

Whether you are coming to the yoga mat for the first time or looking to modify your current practice for your pregnancy, this is the perfect time to foster mindfulness and deepen your awareness of your body. Our hope is to instill confidence in the innate wisdom of the female anatomy, and to increase peace and ease as you journey through this magical time.