Yumi Shin-Sedgwick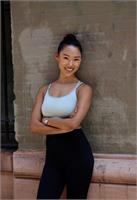 In 2011, After a major life transition of from being a Private Equity workaholic from Seoul Korea to stay-home mom in New York, Yumi came to yoga as a means of finding balance. Since Yumi embraced yoga, her practice evolved into more than just personal care, but also a passion and love of sharing the magical power of yoga.
Yumi truly believes that yoga is for everyone, from the raw vegan to the BBQ enthusiast. She admits that she is a carnivorous, wine and cheese lover, you won't hear much Sanskrit in her class, and she will totally forgive you if you don't know your asana from your elbow.
Yumi gets excited when she meets brand new yogis in her class and loves being a beginner's first door step into a yoga wonderland. As a perpetual student of yoga, Yumi is eternally grateful that yoga has been a centering force in her life and to her amazing husband for his support with a deep love.
Yumi is certified to teach Vinyasa style yoga, Kids yoga foundation, Yoga for Children with special needs and Restorative yoga. Yumi teaches alignment-based vinyasa yoga and restorative yoga at Om Sweet Om Yoga, Long Island, NY.
Yumi Shin-Sedgwick instructs the following: