Beth Lipset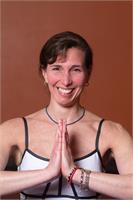 Yoga first came into Beth Lipset's life from her then 2 year old daughter, who was enrolled in preschool and participated in yoga as an activity. She loved how flexible and focused her daughter was becoming and wanted to join in on the fun. She began practicing yoga at Om Sweet Om in 2003, the year the studio first opened. While yoga was initially a difficult thing to schedule into her calendar, it quickly became an element of her daily routine as her desire and need to practice increased.
In 2008, life events escalated her practice of yoga into Beth's "off the mat" life when she was diagnosed with breast cancer. Yoga not only allowed her to regain her strength and flexibility after several surgeries, but allowed her to find the strength in her mind and focus on her outlook on life.
Wanting to share and give back all that yoga did for her, she enrolled in the yoga TT at OSO.
She became a Yoga Alliance RYT 200 teacher, and a YogaKids instructor, in the summer of 2011.
She loves to integrate many modern music styles within her classes and it is not uncommon to hear the Grateful Dead, The Beatles, Luther Vandross, Train or Little Feat in one session.
Beth's Mantra: "have peace in your thoughts, have peace in your words, have peace in your heart."
Beth Lipset instructs the following:
This beginner class will address all the important aspects of a yoga class. We will focus on the basic postures in a class, the breathing and the foundations of yoga all at a slow pace. No previous experience required.A slow-paced practice, with great attention to detail and use of props. Perfect for seniors or those dealing with injury who need a well-rounded, healing practice.




This class is appropriate for all levels of yoga students who have some experience with yoga. The instructor will offer modifications for newer students as well as more challenging poses for advanced students. (not recommended for pure beginners)

This class is for experienced beginners who wish to take their practice to the next level. Vinyasa Flow level one classes include the basics of a flow class, which is a dynamic practice that focuses on combining movement with breath control - an energizing and invigorating yogic experience.




Explore and develop healthy alignment and body awareness.Sue O'Connell brings over 25 years of experience to her Iyengar inspired classes. Students are encouraged to personalize poses to relieve tension, tightness and stress. Blocks, belts, bolsters and chairs are used to empower students to explore their bodies with a safe & balanced approach. Leave class feeling lighter & brighter!