Lauren P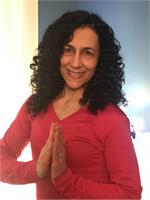 Lauren Petricca is a 500 hour registered yoga teacher with Yoga Alliance. She completed her 200 hour training at Om Sweet Om Yoga with Gail Grossman and Lisa Bondy in 2009 and then completed her 300 hour training with Laurie Ahlemann at L.I. Yoga School in 2012. Lauren also studies regularly with Jean Aronoff. But the learning doesn't stop there. She enjoys being a student as much as she enjoys teaching. Yoga has made such a positive difference in her life with more peacefulness, clarity and deeper connection to others as well as physical well being. Her continued studying of the physical practice and yoga philosophy will continue to help her live her yoga each and every day. Lauren feels so blessed to have been gifted with such knowledgeable and generous teachers that she can only hope to pay it forward by sharing her love for yoga through her teaching.
Lauren P instructs the following:
This class is for experienced beginners who wish to take their practice to the next level. Vinyasa Flow level one classes include the basics of a flow class, which is a dynamic practice that focuses on combining movement with breath control - an energizing and invigorating yogic experience.

This class is appropriate for all levels of yoga students who have some experience with yoga. The instructor will offer modifications for newer students as well as more challenging poses for advanced students. (not recommended for pure beginners)




In this alignment based class, you will have the time to set up, hold and experience the effects of each asana on a deeper level. The longer holds will enable you to deepen your knowledge and experience of alignment, build strength, improve flexibility, to connect to your breath and quiet your mind. Each sequence will be carefully designed to bring a particular effect for that week. There will be challenging postures offered such as balance poses, arm balances and inversions with modifications also offered making this class suitable for all levels. Newer students will benefit from the slower pace and longer holds to learn about the asanas. Advanced students can deepen their practice building strength, improving flexibility while bringing the mind to a focused state. Through the stillness that this practice brings, you will have the time to connect to your true, peaceful, joyful, divine essence.