Erica Fazzari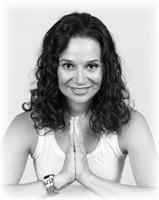 I am so thankful for Om Sweet Om for so many things… for giving my yoga practice a home once moving out to the suburbs (almost 10 years ago), for supporting and carrying me through my first yoga Teacher Training, for introducing me to my teachers Gail and Jean, and for honoring me with Teacher of the Month.
I truly love teaching yoga and sharing my practice with my students. We have tons of fun and flow while still maintaining the integrity of our breath and our most beautiful postures. We lead with our heart centers (both on and off our mats).
I found yoga 15 years ago while recovering from a life-changing automobile accident and am forever grateful for all it's healing benefits.
Erica Fazzari instructs the following:
This class is appropriate for all levels of yoga students who have some experience with yoga. The instructor will offer modifications for newer students as well as more challenging poses for advanced students. (not recommended for pure beginners)

This class is for experienced beginners who wish to take their practice to the next level. Vinyasa Flow level one classes include the basics of a flow class, which is a dynamic practice that focuses on combining movement with breath control - an energizing and invigorating yogic experience.




Emphasis on gentle strength building, flexibility, and the use of the breath to relax and renew.