Gina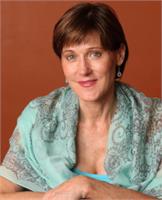 I started yoga late in life. In the 80's and 90's I was into aerobics! I heard about yoga but decided it was too "Easy" and I would do it when I was "Old". How wrong could I have been?! My body, mind and spirit became impassioned by the movement, the breathing and the stillness. I decided I would become a teacher after my first class! I had worn many hats in my life...Advertising exec, mother, actor, salesperson, out of work actor with the kids away. It made sense.
I went to yoga 5 days a week for a year and then I started to convince Gail to do a teacher training at OM. It worked! I was in the first class and it was truly an inspiring soul stirring experience. So I hit the ground running and have loved every class I have taught over the past 6 years. I never stop enriching my life studying the endless philosophy yoga offers.
I also learn from my students. They never cease to amaze me and the joy they offer me warms my hear. Let me end by saying I LOVE YOGA! and every time I leave OM SWEET OM I am grinning.. every time!!
Gina is currently not instructing any classes.